Main Page
THIS WIKI IS UP FOR ADOPTION!!!!!!!!!!!!!
Welcome to the CID Burea Wiki
C.I.D. (Crime Investigation Department) is an Indian crime detective series that airs on Sony Entertainment Television India and Sony Entertainment Television Asia. The series premiered on April 29, 1999 and is the longest running TV series in India, having completed sixteen years in 2013.
Throughout the globe, C.I.D. received highly positive critical reception. The series stars Shivaji Satam, Aditya Srivastava and Dayanand Shetty as the main characters while Dinesh Phadnis, Narendra Gupta, Shraddha Musale and Hrishikesh Pandey portray major supporting characters.
The series is based on a team of detectives belonging to the Crime Investigation Department in Mumbai. The team is [[|
led
]] by Assistant Commissioner of Police (ACP) Pradyuman, the head of the team, Senior Inspector Abhijeet, Senior Inspector Daya, Inspectors Fredricks and Rajat, Sachin, and Sub-Inspectors Nikhil, Vineet, Purvi, Shreya, Suraj and Pankaj. They are aided by [[|
Forensic E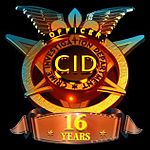 xperts
]] Dr. Salunkhe and Dr. Tarika.
All the major characters of the series-ACP Pradyuman,Senior Inspector Abhijeet, Senior Inspector Daya, Inspectors Fredricks, Dr. Salunkhe and Dr. Tarika have risked their lives multiple times to save the dignity of The CID Team and to solve the respective cases.
C.I.D. has been dubbed in other Indian languages. It is dubbed in Telugu and broadcast on MAA TV and Tamil version is telecast on Zee Tamil. A Bengali adapted version of C.I.D known as, C.I.D. Kolkata Bureau airs on SET India's sister channel, Sony Aath. C.I.D. also airs in Pakistan on Apna Channel.
Conception
Series creator, B.P. Singh, started working on the concept of C.I.D. while he used to work as a cameraman at Doordarshan. for ten years between 1973 and 1983. He said: "I was a news camera-man and handled the camera for about 10 years. Thereafter, I started getting an urge to break free. I [[|thought]] I could see the scenes from a different and maybe better perspective. I asked Doordarshan if they were interested in serialising some detective stories. I started doing some groundwork by meeting some detectives, etc.
Thereafter, while preparing for his film,
Sirf Char Din
(a murder mystery), he used to visit the Crime Branch. While there, he interacted with many officials, and was intrigued by the on-going cases, the style of the detectives, and their
modus operandi
 He started reading detective novels, written by Shrikant Sinkar, and greatly liked his style of writing. Inspired by all of this, he started toying with idea of creating a detective TV series. Singh had already made six episodes in 1986, twelve years before the premier of the show, and eight years before Sony TV was launched in 1994. He did not do any research or surveys before the series conception and has intended to keep the episodes' storylines simple.